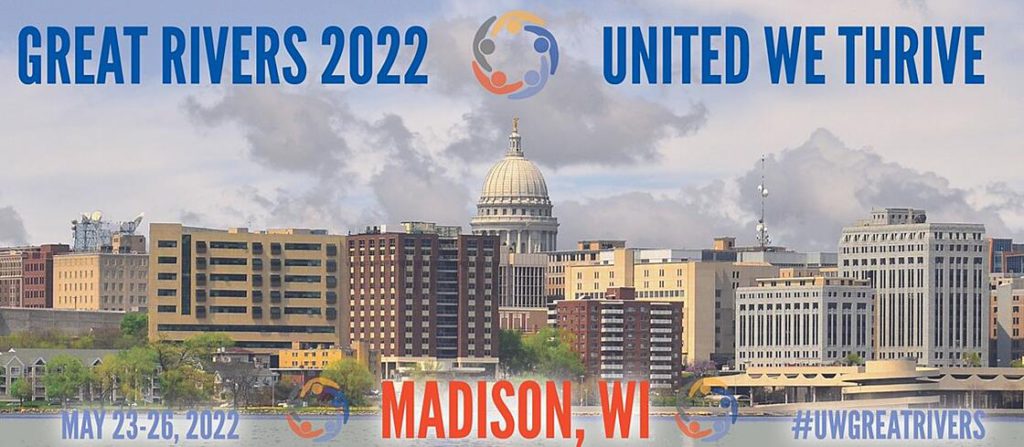 DonorPoint recently had the privilege of being an exhibitor at the United Way Great Rivers 2022 Conference in Madison, WI. After a one-year hiatus due to the COVID pandemic, the sense of community and energy in the room was apparent throughout the four-day gathering, and we met so many great people who dedicate their careers to helping their communities under the guidance of the UW mission.
Nearly 300 United Way staff and board members from 100+ chapters hailing from more than 20 states across the Midwest (and some from even farther out!) gathered at the Madison Concourse Hotel in the shadow of the Wisconsin State Capitol for the meeting. Content that celebrated UW's rich and meaningful history mixed with dialogue casting a positive vision for United Way agencies' futures through best practices from a network of peers to optimize impact back at home. A resounding theme throughout this year's conference was CHANGE — learning to embrace, navigate, and create positive change for the good of every person in the communities that Great River agencies serve — with engagement, equity and advocacy at the core of every conversation and success story.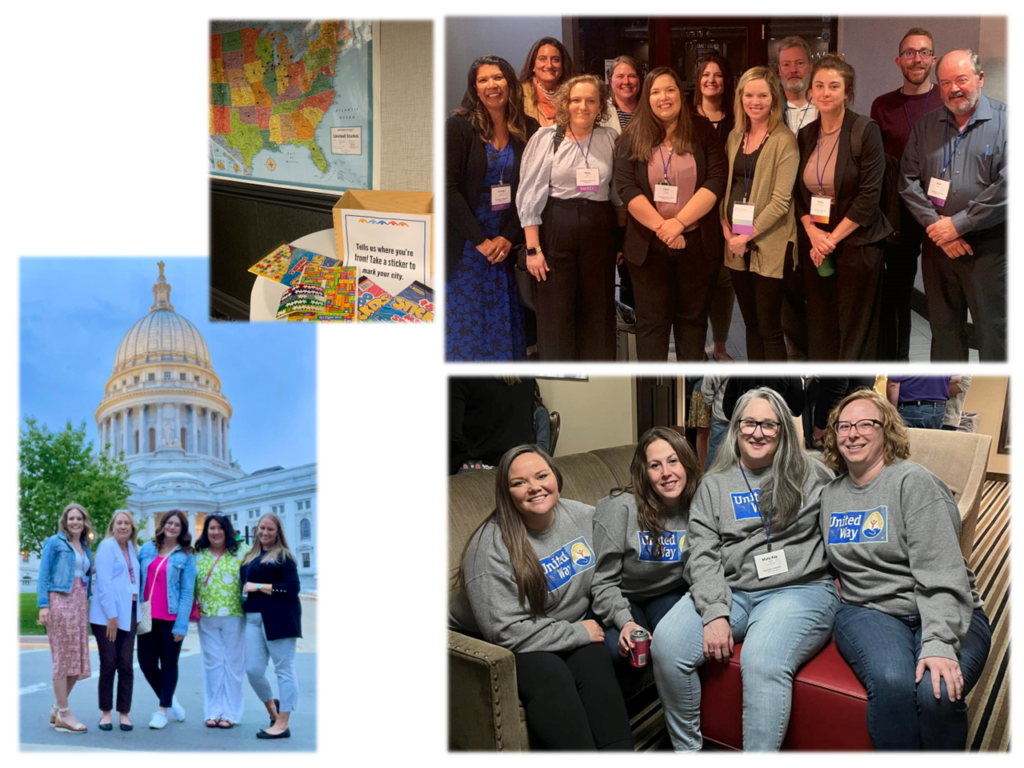 MANAGING CHANGE
In light of the confusion and turmoil from the last two years, the importance of adaptability was key to much of the conference's discussion — heck, even holding it required some flexibility, as pandemic concerns moved the gathering from its original early March dates. Spurred by the uncertainty of the last two years, resiliency and pliability have become cornerstones for United Way teams as they persevere through various struggles to serve their constituents more effectively than ever.  The group's unwavering commitment to unity, strength and determination to thrive despite obstacles is an effect of the passion that the agencies show for making positive change.
Some agencies have been fortunate enough to have weathered their recent challenges well, with little revenue attrition — and in some cases even increases. Still, many others in the room have found the going to be tougher during the pandemic, with declines in financial and volunteer support that they are anxious to reverse in 2022 and beyond.
COMMITMENT TO INNOVATION
A number of sessions and breakouts centered on getting the most out of existing resources, and developing new avenues to maximize revenue and create opportunities that lead to improvement of lives in the community.  Some key topics covered in the presentations:
Strengthening corporate relationships
Successful Workplace Giving strategies
Impactful marketing plans and helpful resources
Proven growth blueprints for small-medium-large markets
Expected challenges and tips-tricks-tools for new agency leaders
Executing and managing CRM & online giving platforms
Identifying emerging trends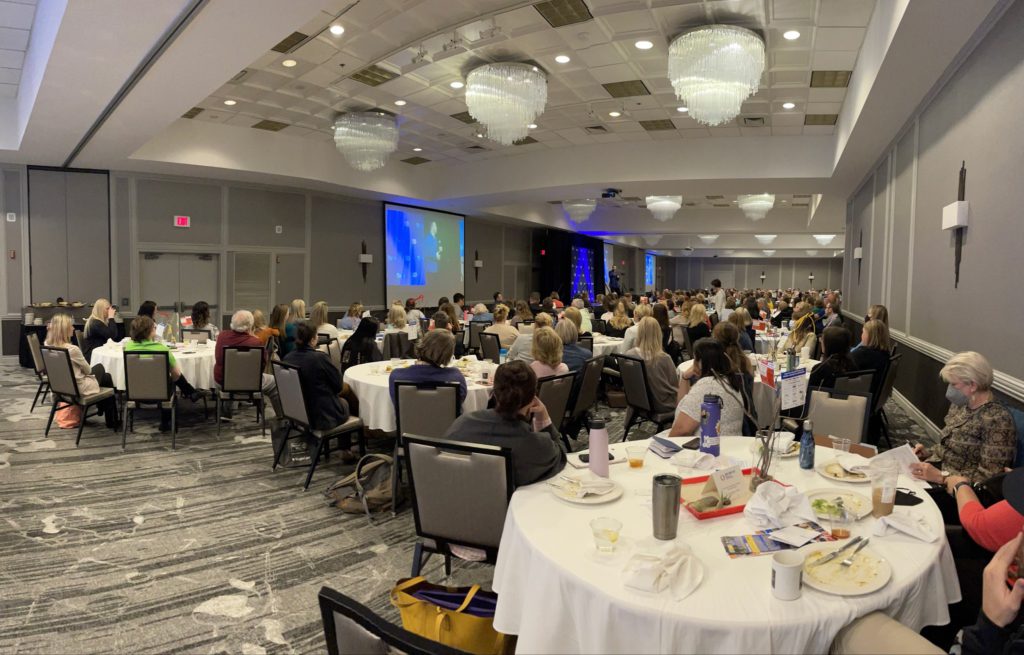 INCREASING IMPACT AND RELEVANCY 
Additional discussion topics geared toward staying as relevant as possible in the eyes of one's donor base and community, and how to maximize the effect on those United Way serves:
How successful support campaigns benefit programs — and ultimately constituents
Investing in technology, processes and people
The relationship between personal and organizational growth
Accurately gauging your agency's financial story
Re-shaping your agency's structure to address your community's needs
Using demographics, research and data to inform every step of your process
BEST PRACTICES & SUCCESS STORIES TO BENEFIT ALL
One of the paramount advantages to in-person meetings that was lost in 2021 due to the pandemic: the person-to-person sharing of strategies, processes and tactics that led to successes for one's agency, pitfalls and challenges to avoid, and programs that agencies across the region can emulate and adapt to their service areas to amplify their results. Breakout topics included:
Ways to diversify revenue streams beyond Workplace Giving campaigns

The power of storytelling to connect prospects to community needs

Takeaways from the SMART Goal Theory & ALICE@Work pilot Workplace projects

How to maintain strong relationships with local businesses and other nonprofits

Effective practices for Planned Giving and other sustainable revenue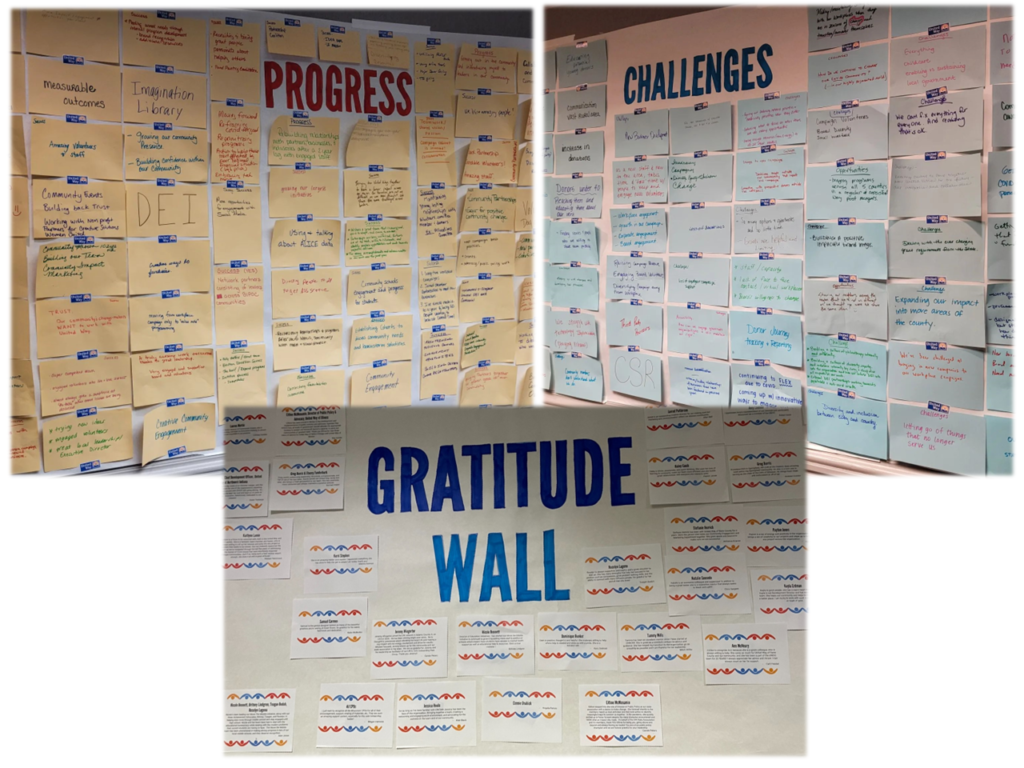 KEYNOTE AND GUEST SPEAKERS
The Great Rivers 2022 conference boasted a number of accomplished speakers from within and outside of the United Way family. Collectively they inspired us to look at change as evolution, to not get caught up in the 'same way of doing things,' to embrace present opportunities, to keep a positive mindset, and take some time to appreciate what has been accomplished.
By the conference's conclusion, we could feel the excitement brewing in the attendees to bring what they learned back to their local agencies to create meaningful change within their service areas. The group was equally enthused to again have the opportunity to personally connect with colleagues, make new friends within the UW family, and share ideas and experiences with an eye toward best serving its communities.
Thanks to United Way of Wisconsin and United Way of Dane County for being such amazing conference hosts. UNITED WE THRIVE!