We received such a positive reaction to our first installment of Year-End Appeal success stories that we've decided to add a second collection of shining stars for your eyes!
Here are three MORE December appeals that were conceptually unique, garnered impressive visibility — and hit their donation objectives. Look for tips, tricks and best practices that you can use for your own appeals — at year's end or otherwise!
ADDED CREATIVE TWISTS ON A TRADITIONAL CONCEPT: UNITED WAY HALTON & HAMILTON
THE BACKGROUND
United Way Halton & Hamilton lives its mission to improve lives, build community and ignite action in its Canadian trade area. UWHH works towards a strong, supported and resilient community by ensuring an essential network of dozens of programs and services work together to achieve lasting, positive change that makes a profound difference in the lives of others.
THE CHALLENGE:  HOW TO MAKE A SOLID APPEAL STRONGER
UWHH has put on a Holiday House Tour as part of its year-end appeal every year since 2004, capitalizing on the gleeful mood that permeates its residents during the Christmas season. However, after a number of years (and despite rotating the tour to different area homes each campaign), excitement for the tour started to wane, and resultant attendance stagnated.
THE SOLUTION:  A TIERED EXPERIENCE
With the endorsement of United Way's core support community, staff leadership and its board of directors knew that finding an entirely new idea wasn't necessarily what was needed — so they focused on 'add-on' experiences to re-engage supporters and expand the tour's appeal to new audiences.  For its 15th Annual Holiday House Tour, UWHH for the first time offered a higher-tier option to tour the Holiday-decorated homes. In addition to a fee that permits ticketholders the traditional self-guided tour, an elevated VIP Tour Experience level was added (at an additional cost) that started with beverages and hors d'oeuvres at a local country club, followed by a limousine ride to the homes on the tour. A further add-on (available to both tiers) was a Christmas Market set up inside a local church at the tour's conclusion, featuring holiday gifts, baked goods and refreshments available for purchase — as well as Christmas basket raffles for supporters to test their luck.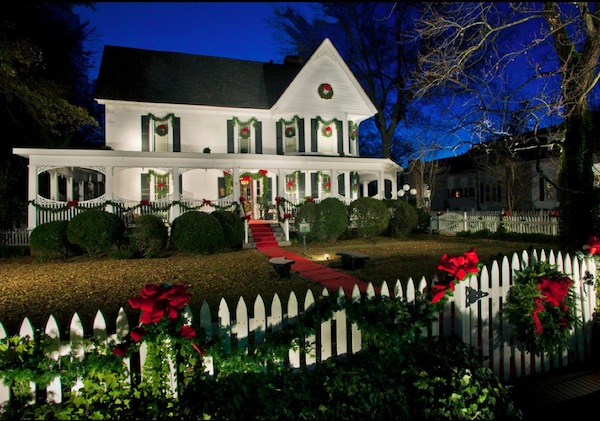 THE OUTCOME
In its first 'new-and-improved' Holiday House Tour featuring six residences, United Way Halton & Hamilton raised $17,000+ to benefit at least seven of its programs and services. Janet Foster, senior manager of campaign and agency relations for UWHH, said the tour ranked among the most successful in the series' history.
Find out more about the United Way Halton & Hamilton at www.uwhh.ca.
A SIMPLE BUT POWERFUL APPEAL:                        HUMAN RIGHTS WATCH
THE BACKGROUND
Human Rights Watch is an international non-government-funded nonprofit founded in 1978 and headquartered in New York City that investigates and reports on human rights abuses around the world. HRW lobbies governments, policymakers, companies and individual human rights abusers to denounce mistreatments and respect and enforce human rights. Comprised of nearly 500 community activists across 70+ nationalities, HRW frequently does its work on behalf of children, migrants, refugees and political prisoners. It was a co-winner of the 1997 Noble Peace Prize as a founding member of the International Campaign to Ban Landmines.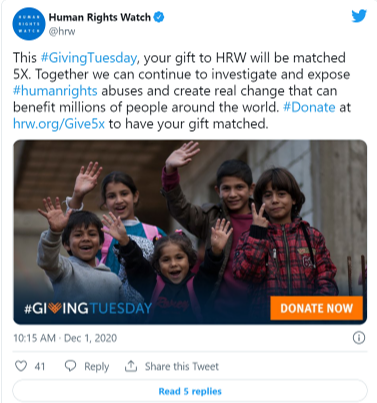 THE CHALLENGE:  CONSTITUENTS SEE THE ABUSES….BUT WHAT WILL MAKE THEM TAKE ACTION?
Human Rights Watch has traditionally received nearly three-quarters of its annual funding from donors in North America, with the remaining 25% coming from Western Europe (typically, less than 1% comes from the rest of the world). HRW puts a strong emphasis on communication to and education of its constituent base, with a much heavier email marketing and social media presence than most nonprofits. The organization believes its constituents understand the need for HRW's mission, but significant decreases in funding (which had receded from $110M+ in 2011 to $75M in 2017) had made it exceedingly more difficult to combat the growing instances of abuse worldwide.
THE SOLUTION:  USE SOCIAL MEDIA TO COMMUNICATE INJUSTICE VISUALLY….AND GIVE THEM A MATCH OFFER THEY CAN'T REFUSE
With an endgame of providing meaningful subject matter that cuts through today's incessant content clutter AND satisfies the ever-shrinking attention span of the average reader, Human Rights Watch heightened its commitment to spreading word of injustice more frequently than ever before — with an increased use of imagery, video and short lead-based news stories to saturate the market with its messages, thereby underscoring the ever-growing need for its work. Then, once the need had been firmly communicated over an extended period of time, HRW reached out to its major Foundation & Corporate supporters regarding offering a donation match for every individual gift made. The organization was able to leverage such support from this part of its donor base that it not only got the OK to market a 'Donate now and your gift will be matched' ask, but the matching level was increased to 'matched 5X' — a level rarely seen in the nonprofit industry.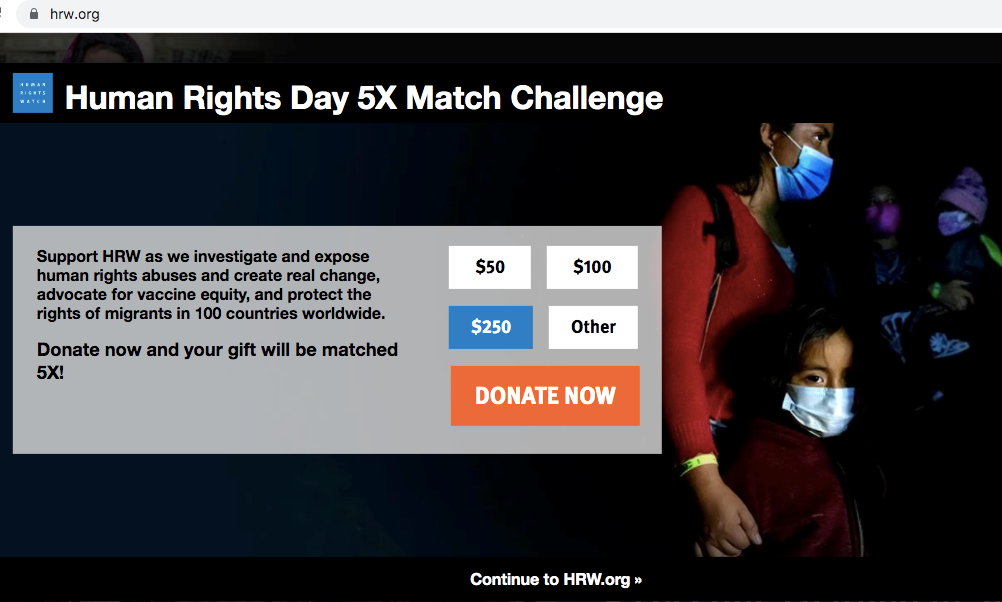 THE OUTCOME
With such a level of assurance from its Foundation & Corporate partners, since 2018 Human Rights Watch has made every period between Giving Tuesday and December 31 its official 'Donations Matched 5X' campaign to drive year-end giving. After netting support in the range of $58M-$75M per year between 2012-2017, the 5X Match campaign has helped maximize annual donations to the tune of $86M-$93M from 2018-2020.
Find out more about Human Rights Watch at www.hrw.org.
MOBILIZING A RETAIL CUSTOMER BASE: HARRIS TEETER HELPS HUNGER RELIEF PARTNERS
THE BACKGROUND
Supermarket chain Harris Teeter, which operates more than 260 locations in Atlantic coastal states from Maryland to Florida, has partnered with hunger centers and foodbanks in its stores' communities since 2005. Harvest Feast Round Up — the annual fund drive to aid local hunger relief efforts where HT shoppers are invited to 'round up' their transaction to the nearest whole dollar amount at checkout — has raised more than $9.4M in monetary donations, in addition to hundreds of thousands of pounds of non-perishable food.
THE CHALLENGE: LOCAL HUNGER LEVELS ARE AT AN ALL-TIME HIGH
According to the
USDA
's most recent
Household Food Insecurity Report
,
the number of hungry families and children in the U.S. had hit an all-time high in 2020 — affecting more than 38 million Americans.
"The number of hardworking families, including children, seniors and veterans, within our communities who do not know when they will have their next meal is astonishing,'" said Donna Robinson, communication manager for Harris Teeter. "Many of our food bank partners are facing record numbers of requests for assistance due to the ongoing effects of the pandemic, which is why it is so important to Harris Teeter to provide a convenient way for shoppers to give back."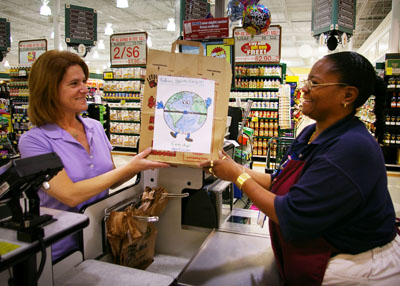 THE SOLUTION: A RECORD NEED DESERVES A RECORD PUSH FOR SUPPORT
With the successful foundation and logistics of the Harvest Feast Round Up well in place, Harris Teeter realized the most sensible focus area to enhance proceeds was in its marketing and communications efforts. To combat the aforementioned hurdle of record hunger, HT and its partners stepped up their already-solid communications plan with more urgent impact messaging, and expanded its stable of marketing vehicles, as well as increasing messaging frequency in the channels it has traditionally used (in-store, traditional, online and social media) — all with the goal of driving the more urgent need home.
THE OUTCOME
With its 2020 Harvest Feast Round Up campaign, Harris Teeter shoppers' and associates' donations totaled $1.9M for those in need of food — a new campaign record. As in previous years, all foodbank and food pantry partners receive 100% of the funds from their assigned HT store collected through Harvest Feast — ensuring that the impact of the donations stays local. "We are continuously overwhelmed by the generosity of our valued associates and shoppers who help us provide millions of meals to our community members-in-need each year," remarked Robinson.
Find out more about Harris Teeter's Harvest Feast Round Up campaign at www.HarrisTeeter.com/round-up.
We hope you cultivated a few tips from these success stories to help your own year-end appeal. If you'd like to discuss how to perfect your appeal plans, please reach out to us!
HAPPY HOLIDAYS TO YOU AND YOURS!