Volunteer Management Success Story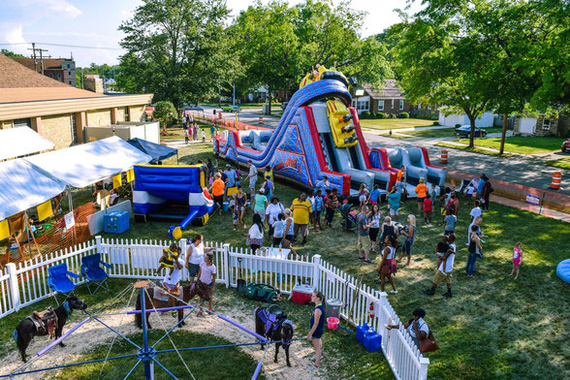 Ss. Robert & William Family Festival
Nestled in the Cleveland inner-ring eastern suburb of Euclid, Ss. Robert & William Catholic School is a Roman Catholic K-8 educational institution founded in 1947, with a mission to foster student access to a nurturing environment focusing on faith, academics and service.
Since 2010, Ss. Robert & William has held a Family Festival on the school-church grounds — a multi-day celebration with a wide variety of events, food, games, attractions, music, family and friends. One hundred percent of the Festival's income is directed to the school's operational expenses.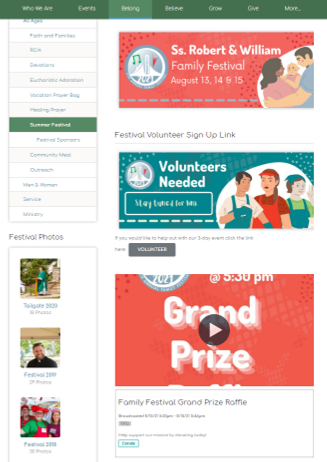 Ss. Robert & William enlisted DonorPoint as its donor engagement solutions provider, trusting them with every fundraising and volunteering aspect of the Festival.
All Festival volunteer staffing opportunities, from ticket-sellers to food/beer tents and game/attraction operators, were facilitated and tracked by DonorPoint, whose automated solution posted and filled volunteer slots, pushed notifications when opportunities were close to being/had been filled….and even emailed volunteer times, duties and other pertinent details to the enlistees.
Furthermore, the school hosted its annual Festival Raffle ($10,000 Grand Prize, $3,000 Second Place and $2,000 Third Place) through the DonorPoint solution, where tickets could be purchased (and paid for) online, then receipted and downloaded by the purchaser — and all necessary communications could be sent automatically via the solution to the raffle ticket holder.
The idea? To let DonorPoint take care of all the online logistics, so Ss. Robert & William could focus on making the on-site experience at their Festival the best it could be.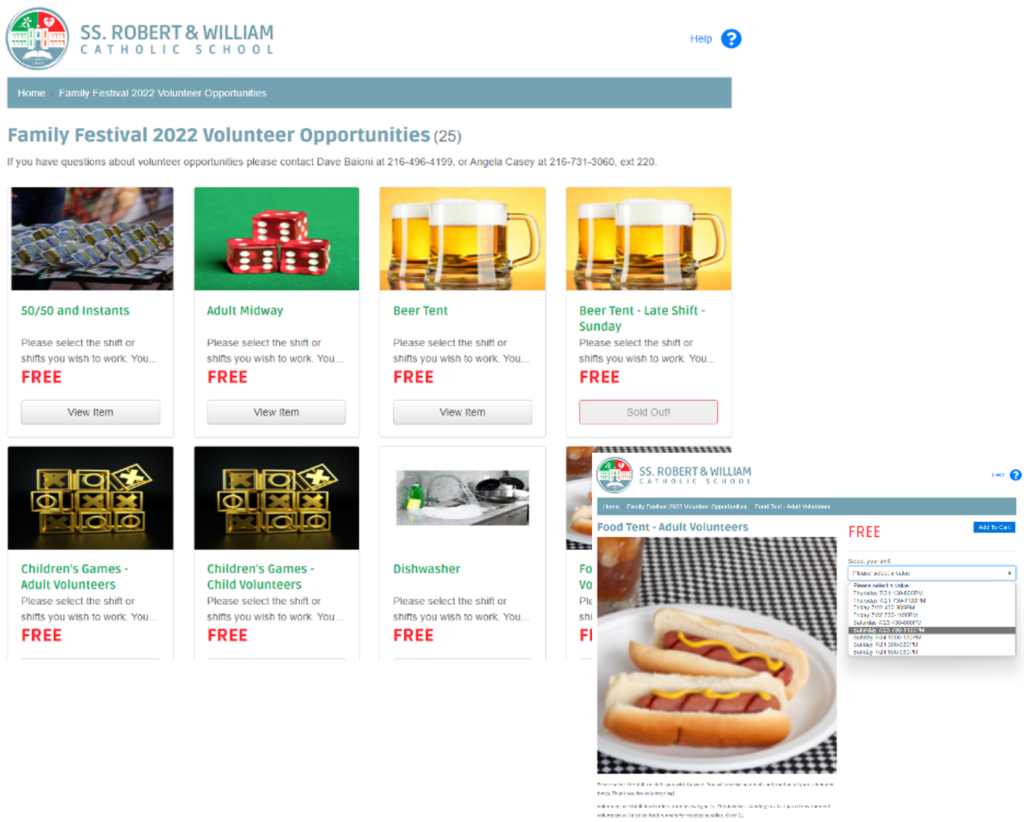 The Results
Ss. Robert & William's Family Festival was held as its usual in-person event in 2021, after the COVID pandemic rendered 2020's edition virtual. The Festival returned to in-person in a big way, raising over $53,000 despite losing an evening to rain — making it a 3-day festival instead of the usual 4 days.
The school loves the relationship it has built with DonorPoint, and sees potential for greater successes with future Festivals. "DonorPoint has really helped us make the most of our raffles and events," said Angela Casey, director of enrollment and development at the school. "We have found the system easy to use, with the ability to customize setups based on our different fundraising needs. As we continue to expand our use of DonorPoint, I am confident that we will experience even greater success in the management and tracking of our fundraising efforts."