Individual & Recurring Giving Success Story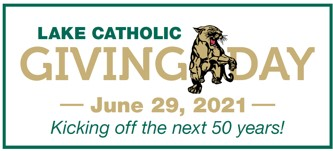 Lake Catholic High School Giving Day
With a strategy to address the need for financial support at a time other than end-of-calendar-year (when most donors plan their gifts), Lake Catholic High School designated June 29, 2021 'Lake Catholic Giving Day,' a donation event designed to celebrate the 50th anniversary of the school and create urgency for fundraising before the end of the school's fiscal year.
Lake Catholic, a 600-student private co-educational high school in the Cleveland area established in 1970, looked to DonorPoint for help in leveraging donations to its Annual Fund before the conclusion of its July 2020 – June 2021 fiscal year. The Lake Catholic team, in partnership with DonorPoint, executed a June 8-29 multi-touch email campaign from school President Mark Crowley and Principal Charley Fuller to parents, alumni and other school benefactors for financial support for operating expenses, so the school can provide tuition assistance to current students and their families in need. The email messages and social media posts highlighted: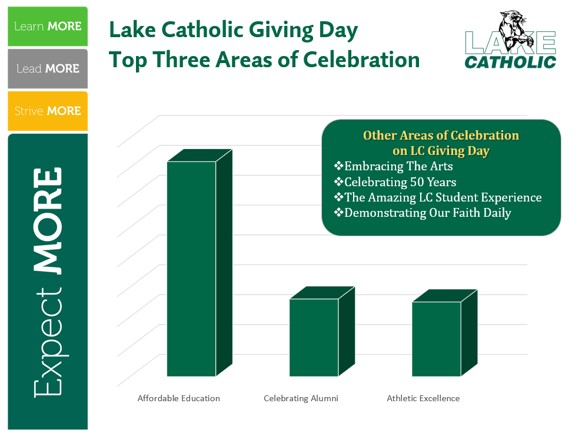 1) A Celebration of 50 Years
2) The importance of 'family' in Lake Catholic's mission
3) 'Cougar Community' success stories during a COVID-affected school year (The Lake Catholic Student Experience, open for in-person learning more than any other area high school, Demonstrating Our Faith Daily)
4) A different area of impact that a donor's support can choose to enhance (Making Catholic Education Affordable, Excellence in Athletics, Embracing Fine & Performing Arts, Celebrating Our 10,000+ Alumni)
Several of the emails utilized videos to enhance its storytelling efforts.
The Lake Catholic Giving Day campaign wrapped up with a 'Thank You' message to all supporters, a final ask for post-campaign giving, and reporting on the top designated Areas of Celebration.
The Results
Lake Catholic's first-ever Giving Day surpassed expectations, boasting a 20% Open Rate on the 9,300-email campaign and leading to more than $10,000 in donations, with a $220 average gift that was double the industry norm. The school was extremely satisfied with the outcome of its campaign, and plans to execute a Giving Day every year.