A client we recently worked with entirely understands the importance of creating targeted online appeals that communicate the impact of each level of giving, but when it came to constructing their own appeals, they needed some inspiration. In this case, the client is an elder care facility providing a wide array of services. So, they created a menu of services and associated approximate costs with each one.
$5 A dietician-approved meal and snack in the Adult Day Program
$20 Round-trip transportation for a client in the Adult Day Program or Partial Hospitalization Program, a three hour therapeutic group
$20 One week's worth of snacks for clients in a three hour therapeutic group
$40 Student attendance at professional seminar
$50 A full day of therapeutic activities for one older adult in the Adult Day Program
$50 A day of respite for a caregiver
$75 Flowers for the courtyard gardens
$100 A special entertainment activity group at the Adult Day Program
$120 One day of therapeutic group activity for a client in the Partial Hospitalization Program
$200 Typical out-of-pocket moving expenses for a new tenant
$200 A special event lunch or party for Adult Day Program clients
$275 One week of personal care for a Home Care client
$275 Unsubsidized portion of one month's rent
$300 Four CD players and headphones for music therapy activities
$300 Personal care supplies for daily care of clients
$375 Additional training for paraprofessional staff
$425 Painting one apartment to prepare for new tenant
$500 An electric clothes dryer for the ADP
$600 Replace carpeting in one apartment to prepare for new tenant
$1,000 A 60-inch flat screen television for client activities
$4,000 Landscape screening in front of the apartments
$5,000 Day-long professional conference featuring a national expert on aging issues
The range of donation amounts and the specific impact associated with each one is fantastic. But there are far too many items to be displayed on a single giving page, so we whittled the list down a bit giving consideration to the items that would be most likely to elicit a response. We created a short, descriptive name for each item and put up the catalogue online. Here is what the finished menu looks like: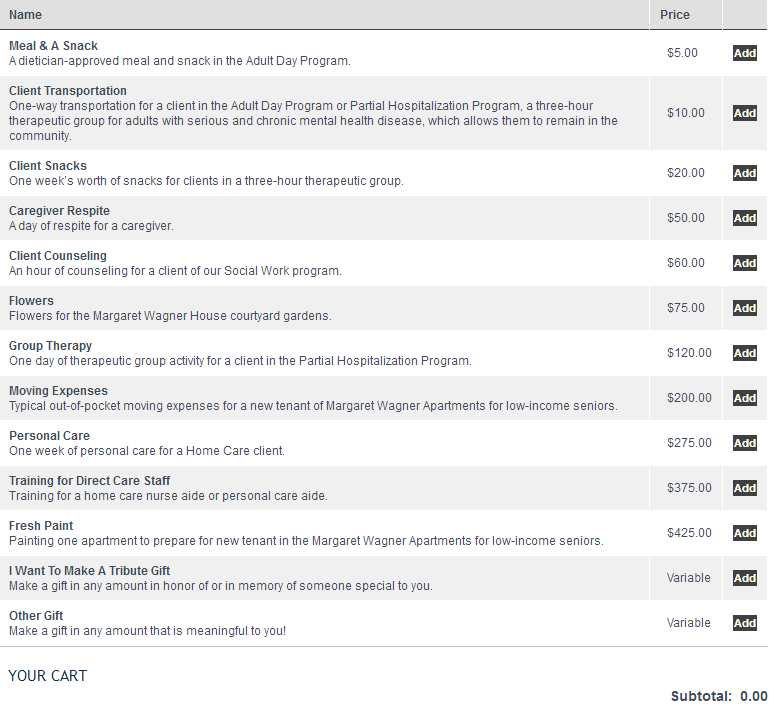 Now, instead of seeing a blank box prompting a financial contribution of any amount, a donor is inspired to give at a suggested level and can clearly see what can be accomplished with the gift. Not only that, but the donor can build a cart containing multiple donation items. Of course, we want to give the donor leeway to make a contribution of any amount, so we are sure to present tribute gifts and "other" gifts with a variable price to be named by the donor.
One common apprehension about constructing a donation cart like this stems from a desire to steer clear of designated gifts. In this case, the menu above was utilized to inspire donations to the Annual Fund. This was stated on the page, and a short qualifier prefaced the menu: "The selections below are just a few examples of the many ways your gift can make an impact in fulfilling our mission:"
Building a donation page like this is easy and it demonstrates a level of thoughtfulness that is so often lacking in online asks. Think of it this way. Suppose you had a great conversation with a donor about your organization and your mission. Imagine that the donor expresses interest in supporting you. Would you just present an open palm? Or would you identify some specific areas of need to engage the donor and make a specific ask? If you are making thoughtful asks offline, why not employ the same strategy online?